Indepth: All About Balance
by salome cloteaux and erica song design by lucky beck and coral roberts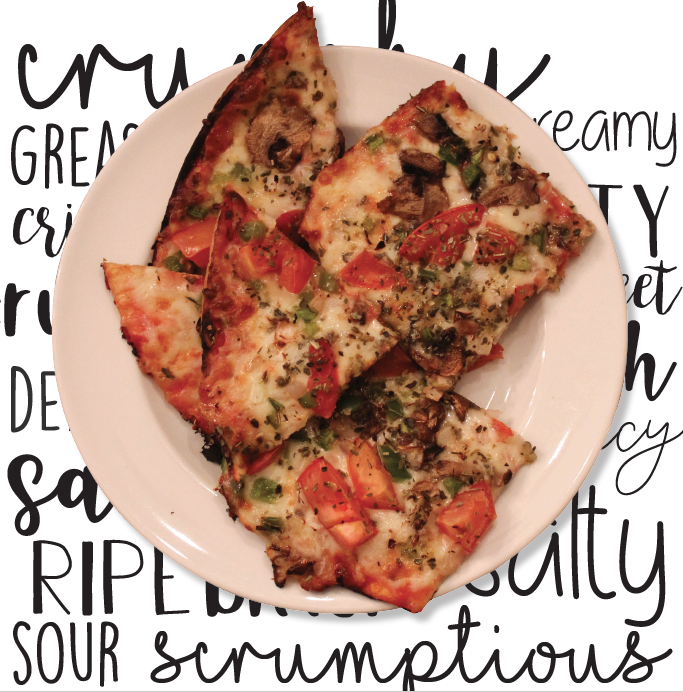 With hunger begins a roughly 53- hour journey through the twists and turns of the digestive system. As food navigates its way through the esophagus to the stomach and then the small intestine and large intestine, it is broken down and converted into energy for the body. While this automatic process takes no conscious thought, freshman Jenna Lang is aware of the influences her diet has on her health both at school and in sports.
"When I eat better, I have more energy, and I can do more throughout the day. Whenever I have sports, I have more energy to play sports," Lang said. "I play soccer, and I usually have to eat pretty healthy for that, so I try to eat more foods with protein and more food that is nutritious for me."
Lang has found a diet that works for her body and her schedule.
"I usually try and stick to a calorie count that's acceptable for my height, my weight and my age, so I have researched that," Lang said. "I don't necessarily stick to it all the time."
Senior Cody Mudge also tries to keep a consistent diet but has found that having off-campus lunch can making keeping a balanced diet both harder and easier.
"I do think that it is a good thing that we have off-campus lunch. If you have a car, you can go to different places; it makes it easy," Mudge said. "It can also be bad for diets because there are definitely more unhealthy options in Columbus."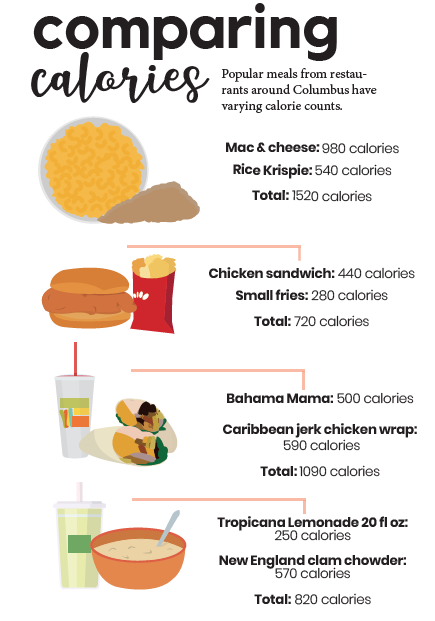 Even with multiple eating options during lunch, time constraints can limit the food available to some students, which sophomore Kate Kolhouse believes can negatively influence their health.
"Most students don't have time to cook a meal, so they buy packaged food, which is really bad calorie-wise and also with the sodium content. If people had more time, they would focus more on their healthy eating, but since we don't have that much time, a lot of [the] time it's just grab and go, which isn't as healthy," Kolhouse said. "In the long run, school [has] a negative impact on students' diets, but most people don't look at the big picture; they just look at it a day at a time."
For Mudge, eating habits not only have physical effects, but can also influence mood and self-esteem.
"If I eat a bunch of junk, I just feel worn down, even if it wasn't a lot. I just feel disappointed in myself because I have been telling myself for ages to watch what I'm doing. I've been getting better with it, but I still feel uncomfortable," Mudge said. "I know that I am a bit overweight, so it is just something I need to watch for and work on because it makes me feel really uncomfortable with my body."
Mudge's personal discomfort extends into social situations involving food, as well.
"I don't like eating more than other people when I am around them, [but] around my family, I don't care," Mudge said. "If I am around a couple of my friends, I will eat less than [them] because it just makes me really uncomfortable with myself and my body when I eat more than people. It is just something that has always bothered me."
Mudge is not alone in feeling the psychological effects of dieting. Junior Molly Nelson sees how health promotion and food labeling can have negative consequences on people.
"In our society, we have been scared to death about the harms of obesity," Nelson said. "Kids don't want to be bullied about their weight so they take these lessons about eating healthy and over-incorporate them into their lives, leading to lethal eating disorders."
According to Nelson, self-image is not the only factor that influences the development of eating disorders; she believes education ca n also have an impact.
"For those at risk for eating disorders, health promotion in schools is a strong trigger. These messages can be taken to the extremes," Nelson said. "Health promotion may be beneficial for those in an unhealthy weight range, yet for those that are in a healthy place, this can cause them to second guess their eating choices and become obsessed with tracking calories and fat units, reading labels and exercising compulsively or secretively to gain muscle and lose body fat. These are all symptoms of an eating disorder."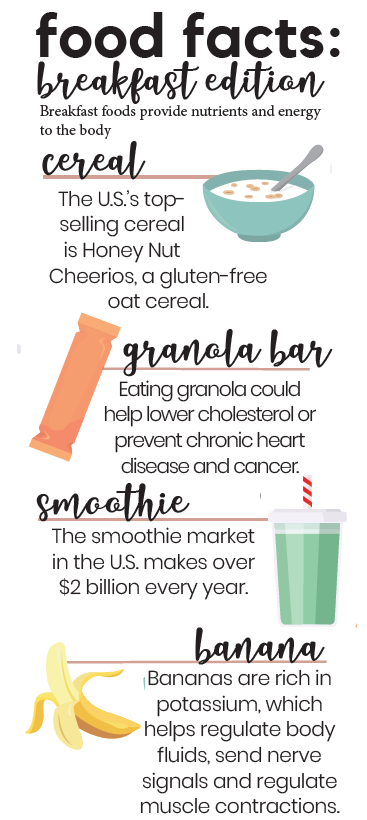 Along with the promotion of healthy dieting, Nelson also think the labeling of food is often incorrect and harmful.
"Many schools label foods as 'good' or 'bad.' This is not scientific. This black-and-white thinking, along with using weight and BMI as a defining factor, is causing many students with perfectionist tendencies to develop severe eating disorders," Nelson said. "All foods serve a purpose whether for nutrition, pleasure, celebration, or social bonding."
Nelson believes the solution is not restricting or limiting people's eating habits, but finding a balance.
"Instead of thinking in extremes, goals of health programs at schools should be to look for the gray. Aim for balance, variety and, most importantly, moderation in the eating experience. Teach students to mindfully nourish themselves with foods they enjoy," Nelson said. "[T] here isn't a certain body shape they have to fit into in order to be accepted; all people are different."