Students share their thoughts on the country's divisions.
by erica song and salome cloteaux design by coral roberts and lucy beck
Facing the barrel of a gun with a criminal on the other end, the police officer watched as a bystander suddenly pulled out a concealed firearm, defusing the situation. Growing up listening to stories like this from his police officer father who has had guns pulled on his, junior Lucas Hayes supports the Second Amendment, which protects the right to bear arms, and shares other Republican views. Just like Hayes, senior Josh Johnson's experiences as a child have stayed with him over the years and affect his beliefs to this
day, including his political opinions.
Looking back at elementary and middle school, Johnson remembers his classmates taking his schoolwork and using it as their own. Today, he sees economic policy in terms of his elementary and middle school experiences. "I don't want people to take the money that I worked hard to earn," Johnson said. "That whole experience developed into the belief that no, you're not entitled to my money. You're entitled to your money."
However, viewing this single aspect of his beliefs does not paint the full picture of his political identity; Johnson associates with the Libertarian Party, which is reflected by a combination of several of his beliefs.
"I agree with socially left views but economic right views, which you can't get from either Democrats or Republicans usually," Johnson said. "The idea that you get to be whoever you want to be as long as no one else is taking advantage of you was a big factor in my beliefs politically."
Unlike Johnson, junior Claire Alderfer's opinions align more with the Democratic Party.
"I think that a big part of the Democratic Party is that they're focused on the average person and advocating for them, making sure that everyone has access to healthcare, education and aid," Alderfer said.
While Democrats embody liberal views in general, Republicans, such as senior Drew Smith, offer a more conservative opinion.
"Preventing illegal immigration is a huge thing, whether it's with a border wall or with increased funding for border security. Defunding Planned Parenthood is a big thing for me. I'm very pro-life," Smith said.
"I'm very pro-Second Amendment. I think everybody has the right to bear arms, and I think there's already too much gun control in most states."
Although not quite as large as the Libertarian, Democratic or Republican parties, the Green Party has the support of freshman Miguel Martinez
"I associate with the Green Party because I like their ideas. I think the other parties have good ideas, but some of them I didn't agree with. [The Green Party is] more open about things and wants things to be more open to people," Martinez said.
As part of the process of developing political beliefs, Alderfer looks to her parents for conversation.
"I love talking to my parents about politics, what things are being said [and] what things are being done. I find it's very interesting to hear what my parents' views are on different things and how that might make me question what my initial response was," Alderfer said. "I think that people should be free to form their own opinions. I do think being informed is very important; I'd always look into it more if you're unsure and try to get all points-of-view before you form an opinion."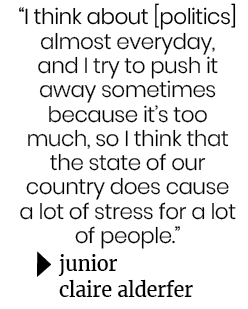 Political dialogue with one's parents does not always lead to shared beliefs as teenagers form their opinions.
"Each person is entitled to their own opinion, and if you happen to line up with your parents, it is great. You have people that you can talk to and rely on," Johnson said. "If you don't, that is alright too. You probably have some friends that believe the same thing as you. As long as you are happy with what you believe, I don't think it matters what other people think about it."
Similar to Johnson, Hayes understands that differences in opinion may arise between parents and children over time. While he believes his upbringing, including his Christianity and his familiarity with guns, influences his political views, Hayes is not limited by his parents' beliefs.
"[Some people] just hear what their parents say, and they just shout it back out because they take it for face value. They don't actually dig into it and see what they believe because they've trusted their parents their whole lives," Hayes said.
Political discussions do not always stay at home. For roughly seven hours a day, high school students, like junior Kate Riordan, have the opportunity to engage