CNWB Take on Seymour Owls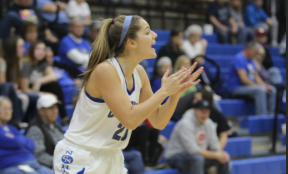 The Columbus North Lady Bull Dogs took on the Seymour Owls on Tuesday  December 12. Senior Liz Tynan reflected on how the team performed as a whole.
"I think we played great team basketball. We built off how we played against East Central and kept the intensity up", Tynan said. "I think everyone contributed to how we played and that's a great feeling."
The Columbus North Women's Basketball Team played against East Central High School in their previous away game on Thursday, December 7 with the varsity winning score of 49-41.
Senior Kelsey Patberg thinks back to the team's game against Seymour in their 2016-17 season.
"We were all really pumped up and ready to play Seymour because last year, they beat us and we wanted some revenge", Patberg said.
The next women's basketball game will be on Thursday, December 14 at 7:30 p.m. against cross-town rival Columbus East High School. The game will be held at home with the theme as pajamas.