No Small Businesses
Students shared experiences of starting a business
Senior Gabriela Velasquez developed a passion for helping others in the medical field of teen life. She assists pregnant teens in the clinic, whether it's translating a language or explaining what the complicated medical terms mean.
"I only recently started doing it last year when one of my mom's friend's daughters got pregnant, but because of her lack of English, she did not know how to make her appointment or like to go to the clinic and ask for things," Velasquez said. "I volunteered to help her out during her first trimester to get her going and I actually really enjoyed helping these types of people who need help."
Once word got out of her services, she started getting requests from others who needed a helping hand, and Velasquez was happy to help.
"I have always been passionate about it because I love anything about health science and I also like the experience of getting to help people," Velasquez said. "I've always wanted to help people. It's such a nice feeling because you get to help these people who cannot communicate and I like helping to fill the gap between them."
She even encourages others to help, too. Some of her friends joined her recently and they are making significant differences.
"If anyone wants to start translating, honestly just go for it. Even if you don't think you know enough for one language, honestly anything can help," Velasquez said. "There are people who honestly can't speak their mind because of the language barrier and if you just know the tiniest bit you can honestly help a lot."
As she translates for others, she earns some experience herself.
"I don't have work experience at all, but helping translate gives me the idea of having work experience," Velasquez said. "It gives me the skills that I will be needing later on in the future."
On the opposite side of the spectrum, a pair of friends started their business experience from one Jewelry and Glass. Junior Sarah Fulp and sophomore Chloe LaVelle operate Custom Beaded, a jewelry-making business.
"I started my business when I found out that I really enjoyed making these types of necklaces," LaVelle said. "I was inspired by my Jewelry and Glass class where I learned the skills that I use."
The duo is still learning the ropes of what it takes to have a business and they are still learning about each other. Fulp previously operated Random Wrist and decided to combine her skills and experience with LaVelle's.
"One day we decided that it would benefit both of us if we just combined because she was better at creating good-looking posts and taking pictures and I am better at messaging people and talking to them," LaVelle said.
The team of Custom Beaded has high hopes for its future and prosperity as they spread the word about their work.
"I am going to improve my business by making more jewelry and trying to post more often. I have been very busy with soccer and other clubs but once soccer is over I will have more time to focus on my business," LaVelle said. "I will also hopefully, in the future, start selling to people who live further away. It benefits the young adults in the community by giving them a way to express themselves through the jewelry they wear."
Whether it's helping others or creating beautiful jewelry, these three girls show that passion has no limits.
"[My favorite thing is] that I like to make jewelry and you get to make people happy," Fulp said.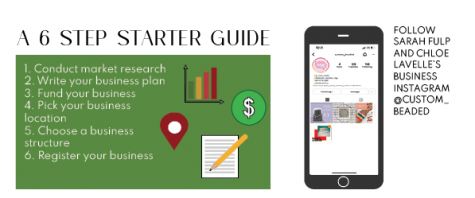 Leave a Comment