My Make-A-Wish Experience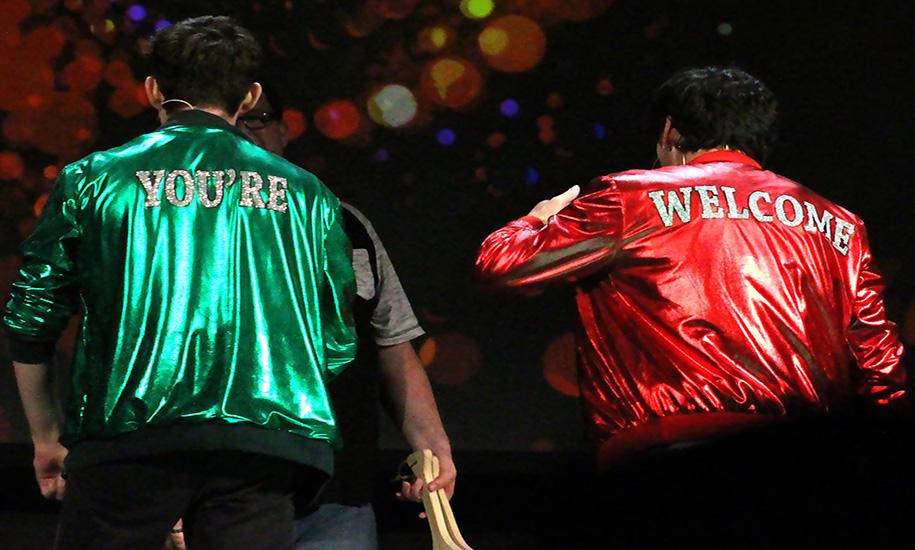 It was a little hard to get everything planned at first. I was originally going to go to Japan for the Cherry Blossom Festival, but later changed my mind to meet Markiplier , who I admire and aspire to be like. The plans kept changing from going to Vidcon to meet him, but I couldn't make it then. Next place we tried was Pax West, which I was hyped to go to. I had my hopes up to meet him there and see his panel and cosplay for the time being there, but since one date wasn't going to work, so I had to go with the next option. I went to one of his recent tour showings in Akron, Ohio.
Day 1:
Oct. 7 was the date that was set to pick everything up and get tOhio and start of the trip. It was around 10 that my sister made it to my house. We first had to go to Walmart since there was place inside for car rentals that Make A Wish had registered under my sister's name. The car was a pretty nice and new kind of high tech Chevy. After we picked up the car we headed out to IHOP for some brother/sister breakfast. After the breakfast, we went to get coffee from Starbucks, of course. We had some much needed bonding conversations on the way and made a few stops to take some pictures. We turned a five hour drive to our hotel to about a seven hour drive.  After we got in we went down to the hotels hot tubs, since I've never been in one and my sister was really excited about going to one again. After some time in the pool and hot tub, we went out for late night dinner for a pizza place near the hotel.
Day 2:
It was the day of the wish to come true. I wore my Make-A-Wish shirt all day, even to Target for us to get some needed grocery stuff for the room and a few other things for us to enjoy. We got the coffee to start the day with and got ready. After we were ready we headed down to the lobby to meet a worker with Make-A-Wish and the other Make-A-Wish family. We all introduced ourselves to each other and headed outside to the limbo. I ended up forgetting the ceramics I made for Markiplier so I ran back up to the hotel room to get them and back down to the limbo. While in the limbo we all chatted a little and my sister and I took photos, and I did a little vlog.
The whole day had me filled with excitement. We made it to the theater, Akron Civic Theatre, and seen Evan, Mark's assistant. On the way in I dropped one thing I made for mark, which was a small Tiny Box Tim and his arms ended up falling off. Evan said he would get it glued as he lead us in and let us go to the merchandise table. I got a few things before getting to our seats. Mark also gave us a signed water bottle and the vip backpacks from last tour. We all hung out and talked, until Evan had to go and help Mark get ready.
After a couple minutes, the theatre filled with VIPs and Mark came on stage with his guitar. He began by singing an Ed Sheeran song, then asked some questions. After a few songs, he sang happy birthday to a group of peoples birthday who was coming up. Mine was in about two weeks from the tour and I was sort of included in the group of people. It felt amazing just to hear him sing and see him close up. The VIPs had to clear out and Evan told us to stay where we were. We waited and talked a little until we had to move seats for the show. My sister took some photos from the show. Everything from the show was amazing. More than I ever expected from a wish.
After the show ended, everyone cleared and we stayed waiting for Evan. Once he came we walked to find the green room and meet Mark. I first saw Wade then Ethan and finally Mark. They all had wet hands so we got half hugs from them as we walked in. We took a seat at the table. Everyone was there, Mark, Wade, Bob, Ethan, Amy, Kat, Molly and one more person I couldn't recognize. It could been Bob's wife. Marks mom even was there since it was the show in Akron, Ohio, She brought some homemade food and offered it to us. We couldn't find the plates until Evan came in with pizza. I gave Mark the things I made him and was probably shaking from being nervous. I mean, who wouldn't be nervous meeting a celebrating that the person looks up to. we all ate together and talked a little, asked them some questions and made some jokes here and there. I couldn't believe it happened. I think recently I finally accepted that it did happen. Everything was just so amazing I couldn't believe it. The meet up lasted almost an hour and half I think or an hour. Before we left I got a photo with Mark and Ethan. I did get a group photo with everyone who came at the beginning of the meet up. We had to leave when the limbo came back and returned to the hotel. Once we got back, it was pretty late, my sister and I went to the hot tub again for a short bit then to Applebee's for dinner since I never tried it before. We almost didn't get in since they were close to closing. After Applebee's we went back to the hotel and relaxed in the room.
Day 3:
The third day was a free day. It's also what I call, brother sister bonding day. We first went to CiCi's pizza to try something new. It funny since we were in a new state, but all we really ate was pizza. After the pizza we got coffee at a coffee shop that Make-A-Wish recommended. The coffee was shop was relaxing type named The Nervous Dog Cafe. I got a Nutty Irish Latte, which was really good. As a souvenir I got a snapback hat and my sister got a mug. After the cafe, we went to a park and took a few photos as we went on a walk. After a few minutes at the park we decided to go to a different one, before that we went to get ice cream from a place that Make-A-Wish recommended. It was a nice time, we tried samples of a lot then finally got some. After the ice cream, we headed out to the park. we stayed there for a couple hours until it got dark. After that we headed to a local mall and visit hot topic. We both got some good stuff from there. Late that night we did a Bean Boozled game. It was supposed to be brother vs sister thing, but it just came to us playing for fun. I recorded it all, which was great. It was full of laughs and enjoyment together.
Day 4:
The last day on the trip and time to head back home. Before we left Ohio, we went back to the park to take some better photos. Then we headed back to Indiana. We made a few stops for food, bathroom and coffee on our way back. We stopped by a place called bobo cha in Cincinnati on the way back to try some boba tea. The trip went well, minus the traffic. I did enjoy my time with my sister and being able to meet a celebrity I look up to. It seemed to been a much needed bonding time with my oldest sister.  The trip was amazing and certainly something I won't forget.